The queen of Thumri, Girija Devi
Think of Thumri and the first name that comes to ones mind is that of Girija Devi. Lustrous white hair, mouth full of paan and a deep, melodious voice. The famous personality who strengthened the identity of the Banaras gharana worldwide, who is known as the 'Queen of Thumri'.
No one can escape the magical effect of Girija Devi's singing, because she comes from a family where chaumukhi singing and music was a tradition. Listen to anything you wish from her. Tough styles like Dhuprad, Dhamar, Khayal, Trivat, Sadra, Tarana, Tappa or popular styles like Thumri, Dadra, Kajri, Chaiti, Hori, Jhoola and Sohar. The fame of Girija Devi is also immense because her singing has a touch of the culture of the east, which attracts the ordinary listeners as well. As a musician Girija Devi is like what Channulal Mishra of the Banaras gharana says, "A singer should be like a departmental store, you will get whatever you want".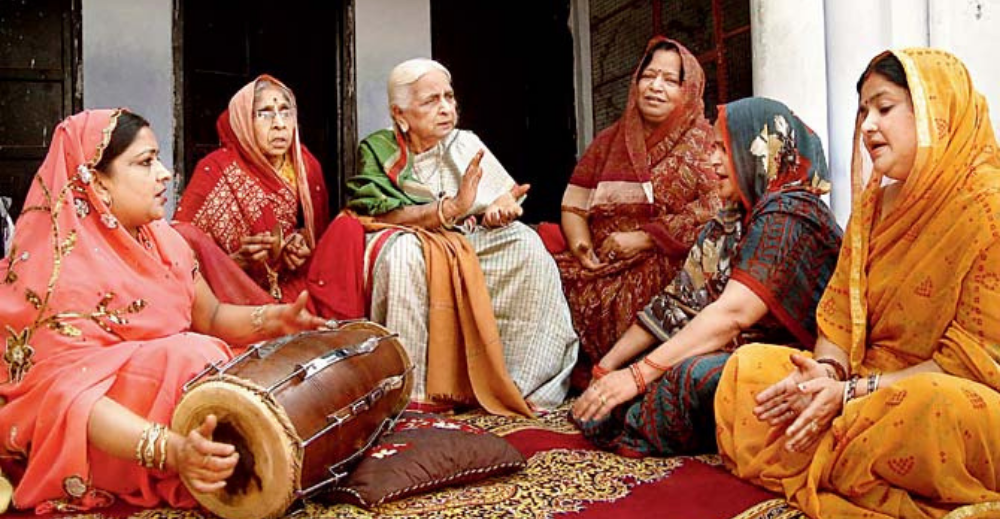 The interesting thing is that Girija Devi, who had become a synonym for Thumri, is actually the first generation singer in her family. Her father Ramdev Rai was a landlord. He lived in a village. He was so much into music that he would go to Banaras to listen to well known artists and he himself was learning music. He would bring his daughter Girija along. He felt that his daughter was inclined to music. He started getting her also trained. He also took an accommodation in Banaras so that learning music was hassle free. Born in 1929, Girija Devi was five years old when she started her music training from Pandit Sarju Prasad Mishra and Pandit Srichand Mishra, the music gurus of the Banaras gharana. Girija Devi says, "Our gharana was that of farmers, but my gurus' gharana became mine".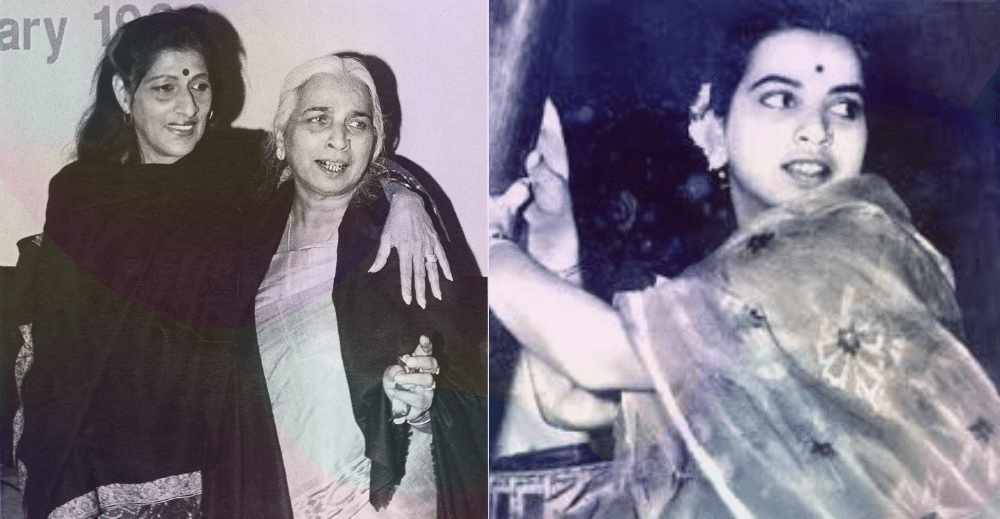 It was a time when girls going and singing on stage was not appreciated. But who would Girija fear! Her father himself was with her. He had brought her up like a son. Not just music, he also tried to give her the training of horse riding, swimming and self defence. Studies would not interest Girija but her father kept Hindi, Urdu and English teachers. Music is embedded in holy city of devotion and spirituality, Banaras. Musical gatherings have been a part of Banaras temples since when even radio was not functional. In those days singers like Pandit Omkarnath Thakur, Faiyyaz Khan, Mushtaq Ali Khan, Krishna Rao were dominant. Music was played in temples all night. Living in Banaras, Girija Devi got a chance to listen to many great singers.
Once in Kashi's Mankameshwar temple Ustad Faiyyaz Khan was rehearsing raga Lalit at 3:30 am. Seven year old Girija Devi had gone to listen to Khan Sahab with her father. Girija Devi says that listening to the alaap sung by him, tears rolled down her cheeks. Faiyyaz Khan saw her and asked whose daughter she was. Ramdev Rai came forward with folded hands. Faiyyaz Khan said to the father that a great artist was born in his family. She had such a great sense of music at this tender age, what would she do when she grew up!
Khan Sahab had said the right thing. Girija Devi did not take time to gather fame. In 1949 she got a call from The Allahabad Radio. Girija Devi says that the station director listened to Khayal in raga Desi for 45 minutes, Thumri for 15 minutes and Tappa briefly for 5-7 minutes. The audition went on for about an hour and a half. After that she got the letter of the first programme with Rs. 90 as remuneration for it, along with first class travel fare. At that time, in radio, there were no grades for artists. With the remuneration offered, Girija Devi realized that she was in the list of the topmost artists, because 90 rupees was what senior artists like Bismillah Khan, Siddheshwari Devi, Rasulan Bai, Kanthe Maharaj were also getting.
In 1946 Girija Devi was married to a big businessman, Madhusudan Das. Her husband was 20 years elder to her. But he was also very fond of music. He supported Girija Devi in a great way. The only promise he took from her was that she would not sing in the court of royals and nawabs. Girija also kept her promise. Girija says that her husband had good knowledge of Hindi, Urdu and Farsi. She would have long discussions with him on the pronunciation and presentation of words in Thumri, Dadra. He called her Devi with love.
Girija Devi had her first concert in January 1951 in Ara, Bihar. On the same stage were greats like Pandit Omkarnath Thakur, Pandit Vinayak Rao Patvardhan, Ahmed Jaan Thirakwa, Pandit Anokhe Lal, Kanthe Maharaj, Meera Sanyal. It was apparent that Girija Devi had begun to be counted among the top artists. In 1952 her husband organised a music concert in Banaras. In that concert also great musicians like Pandit Ravi Shankar, Vilayat Khan, Ali Akbar Khan, Kesarbai Kerkar and Pandit Omkarnath Thakur participated. Girija Devi also sang there. Pandit Ravi Shankar, at that time, was associated with Delhi Akashwani. When he heard Girija Devi singing, he organised a programme for her. Bismilla Khan, DV Palustar and Girija Devi were given 20 minutes each at this show, held at the Talkatora stadium in Delhi. Girija Devi tells that she finishes singing in less than the time given to her because she does not like to give anybody a chance to say that she took more time. That is why that day also she sang one Tappa, one Thumri and finished singing in 18 minutes. Just then a man came running. Actually the then vice-president, Dr. Radhakrishnan, sitting in the audience had sent a message requesting her to continue singing. Girija Devi, without paying attention whether the mike was off, asked, "What if he gets up and goes in the middle of it?" At this, Radhakrishnan himself got up and assured that he will not go and that she should continue singing.
In 1952 she performed in a concert in Kolkata for the first time. Since then she has a deep connect with Kolkata also. In 1978, she was called as a faculty at ITC Sangeet Research Academy in Kolkata. Director of the academy and music scholar Pandit Vijay Kichlu had invited her. Because of Vijay Kichlu well known names like Ustad Nisar Hussain Khan, Heera Barodkar and Mushtaq Hussain Khan got associated with the Sangeet Research Academy. After that Kolkata became another home for Girija Devi. Even today, she teaches music to hundreds of students in Kolkata and also speaks fluent Bangla.
Girija Devi tells us that in olden days Hindus sang Chang, Prabandh, Matha, Parmatha, Dharu Geet, Tirwat, Chatrang etc. Later when Muslims came in, they got with them Kaul, Rubai, Sadra, Khayal, Maseeha etc. Both cultures met so both learnt the traditions of each other. For eg., Tappa usually has Punjabi lyrics. Khatka, Murki, Kad and Penchdar taans are used extensively. For singing Tappas, perfect taans and laykari have to be in place. But Girija Devi presents Tappa in such flawless manner that along with the voice, the mind also strats dancing to the tunes of the music. In all her concerts, she is asked to sing Tappa.
Girija Devi is called Appa with love in the world of music. She tells us that since childhood she has been very fond of dolls. As a child, she would get the dolls married, etc. She has a huge collection of dolls at her Banaras and Kolkata residences. Even today some people gift her a doll on her birthday. Girija Devi tells us that when the son of her elder sister was born, he was like a puppet. He started calling her Appa. Slowly, all started calling her Appa only.
Giriraj Devi has some priceless compositions of the Banaras Gharana, which she keep sharing with her new students. People like Malini Awasthi, Sunanda Sharma, Shalini Tripathi are already known names in the music industry. Honoured with Padma Shri, Padma Vibhushan and Sangeet Natak Academy award, Girija Devi is 84 years old now. She says if she can eat and walk at this age, then why can she not sing! Our best wishes that Girija Devi remains healthy and keeps smiling like this always. May she keep singing always…