Upto the 1960s India was a feudal society. The rich were very rich, the poor were mired in abject poverty. There was hardly any middle class. However, India's history of thousands of years has seen a great many economics, sociological and cultural changes of the extreme order. A few constants have always been there, affected but not much, by the changing environments of our socio-economic and political structures. One of these constants to withstand the pulls and pressures of such changes was our traditional arts-particularly music.
The credit for this dynamic insulation from all such upheavels and the constant evolution of the arts goes to the succession of extraordinary artistes India has produced over the centuries. They include such greats as Bharat Muni (second century CE), Matanga Sarangdeva, Mian Tansen, Baiju Bawra, Adarang-Sadarang, Faiyaz Khan, Barkat-Ullak Khan, Inayat Khan, Ashiq Ali Khan and others. They have been the backbone of the constant evolution of our classical music.
One of the recent and most illustrious names in this historical tradition is sangitacharya Ustad Mushtaq Ali Khan– a contemporary of Ustad Sadiq Ali Khan, Ustad Rahimuddin Khan, Ustad Bade Ghulam Ali Khan, Ustad Amir Khan, Prof. D.T. Joshi, and many others but none of them are unfortunately amongst us today.
The main attribute of all these great devotees of various art forms was their unalloyed dedication of their discipline, to the exclusion of everything else. It was because of their absolute devotion that our performing arts survived, evolved and prospered even during the darkest periods of our long history.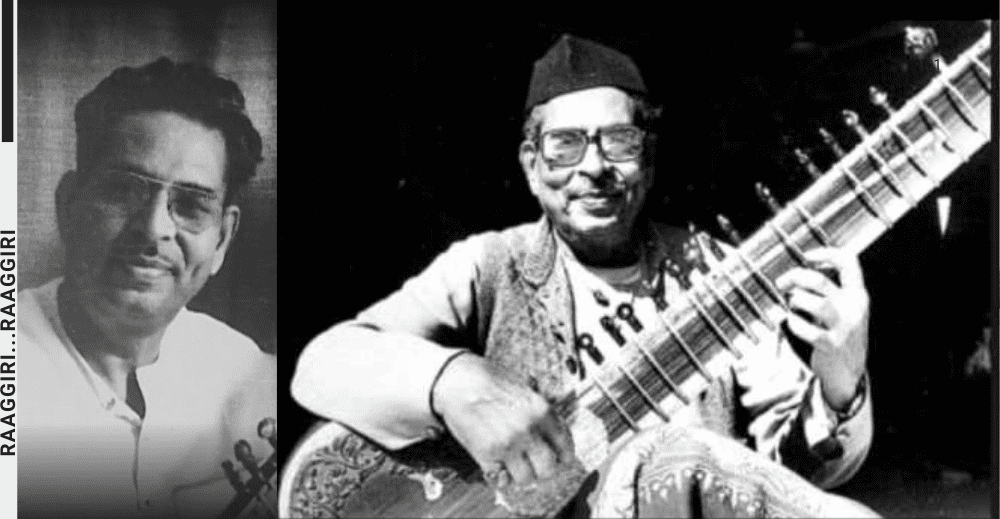 The Guru Shishya parampara has been the mainstay of this continuity. It ensures loyalty, intensity of training and continuity of great tradition. Ustad Mushtaq Ali Khan's professional lineage descends directly in an unbroken line from Maseet Sen, the originator of Maseet Khani Baaj. Innovations within the strict guidelines of the raga system, has been the hallmark of this gharana.
Born on 20 June 1911 at Varanasi, son of Ustad Ashiq Ali Khan (the disciple of Barkat Ullah Khan- "Aftab-e-sitar"), Ustad Mushtaq Ali Khan had his initial training in sitar from his illustrious father from the age of six.
He joined as a court musician in the then Jaunpur state in UP, but quit early to continue his mission in life. His first major breakthrough came with the performance at the Allahabad Music Conference in 1934. After that invitations to perform multiplied and in a short time he became famous throughout the country.
Ustadji's wide repertoire of professional activities included interviews, lecture demonstrations, seminars, performances, examination and evaluations for various organizations and institutions like the All India Radio (AIR), Doordarshan. His multiple activities also encompassed newspapers, books and periodicals, universities, academies, archives and societies. He also organized conferences where old masters and new artists were introduced to the music savants as well as the general public. Among the now well-known names, Pandit Ravi Shankar of world fame was first presented by him to the public in Calcutta.
The list of his professional performances and achievements is endless. Besides the spell-binding music he performed at thousands of locations all over India, he was also a creative genius. He composed many a memorable razakhani gats. He said all such compositions were natural and came from musical logic.
He always used to explain and elaborate that his principles of Senia Gharana was to believe in the logic of any musical application related to raga. One of the principle ideas he drilled into his students was yukti (Logic). Musical compositions flow from the logic of basic musical principles grounded in the fundamentals of the raga system. Ask any of his pupils and they will emphasize the importance of logical presentation as the basis of the Senia Gharana. That is why he always used to say "Sanias were yukti vaadi". This signifies that if any Senia performer is applying a note in a peculiar way that should be maintained as the way of application by the Senias. No wonder, he was called the musician's musician. He held his own inimitable way of interpreting our theory of music. He used to emphasize the famous statement of uttama gana, madhyama bajana as uttama gana, madhyama (as medium) bajana.
Some of the most prominent students include the author Nirmal Guha Thukurta and Netai Bose (the senior most disciple, passed away recently), Sadhan Ghosh, Prateek Chaudhury, Sharmishtha Ghosh, Indrani Chakravorty, Anupam Mahajan and Ravi Sharma etc.
However, as the bulk of the expression in music simply pandered to the masses, not much effort was being made to bring our rich and sophisticated musical heritage to our people. This greatly saddened the Ustad Ji. Since it was impossible for him to dilute the absolute purity of traditional Indian classical music and especially of his own Gharana, he took up the mission of its propagation and introduced the now rapidly expanding circle of cognoscenti, who he hoped would enable it to percolate and reach others.
In a long professional career spanning over sixty years, many professional awards and distinctions were conferred on him. He however, being a traditionalist, who refused to submit to bureaucratic whims and fancies, political awards were denied to him. Among the numerous professional distinctions conferred on him were:
Sitar Sudhakar (1932), National Academy Award (1968), Tantri Vailas (1973), Sangeet Ratnakar (1974), Hony. D.Litt (1974), State academy Award (1974, 1989), Senior fellowship and Emeritus (1986), Bhuwalka Award (1987), Tansen Award (1987), Special Honour (1987, University of Delhi)
Even in the evening of his illustrious career, he and his loving wife Begum Kaniz Khatoon were actively involved in a variety of projects. His departure for his heavenly abode on 21st July 1989 left a huge void in the realms of our traditional music. He has left behind many worthy students disciples who are now engaged in establishing a center in Jasola, Delhi in the name of their Guru as a tribute to him and to keep his music and memory alive.
On 23rd December 2004 our revered Guru Ma also left us leaving behind only Khan Sahib's nephews, who are now settled in Kolkata.
Pandit Debu Chaudhury (Padmabhusham Awardee Pandit Debu Chadhury is a shishya of Ustad Mushtaq Ali Khan. This article is taken from his book Sitar, and it's Music.)