Anupama Bhagwat is regarded as one of the finest and innovative Sitar players of the 21st century. Known for her versatility and eclectic style, Anuradha's recitals are hailed for their technical mastery and evocative lyricality. Speaking about Anupama's innate sense of musicality, Sarod virtuoso Ustad Amjad Ali Khan has said: "When Anupama began her recital, my interest started piquing. It was after a long time that I was hearing a female instrumentalist playing with such commitment and dedication. I was pleasantly surprised to hear her". A complement of this nature coming from one of the greatest instrumentalists speaks volumes about Anupama's talent. Born in Bhilai, Chhattisgarh in a Telugu-speaking family, Anupama first started learning the violin as her father was a violinist. She was introduced to Sitar by her uncle R N Verma at the age of 9. Anupama says. she felt as if Sitar has chosen her. After initial training from Mr. Verma, she started learning Sitar from Pt. Bimalendu Mukherji, a disciple of Ustad Enayat Khan (father of Ustad Vilayat Khan). Under his tutelage, Anupama absorbed the intricacies and fine elements of the Imdadkhani Gharana that her guru embodied. Imadkhani Gharana is popular for its fluency, fast taans and meditative alaaps and brilliant fluency of melody (raaga-bhava)while remaining true to the tradition.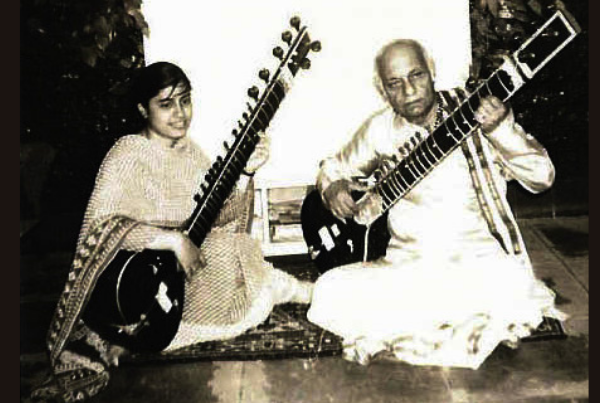 Pt Mukherjee was primarily a Sitar player but he had expertise in playing Surbahar, Surshringar, Sarangi, Sarod, Esraj and Saraswati veena. Such was his dedication towards beenkari that he invented two different kinds of veena after immense research naming them: Aditya veena and Bijoya veena after his son and grandson. Anupama described her Guru's teaching style as unconventional. She says, her Guru helped them create their individual styles. While teaching gayaki-ang the maestro ensured that the emotion of the lyric was transported into the instrumental rendition. It included an in-depth understanding of the Sahitya, which in turn guided the stroking patterns. And with rigorous practise and unflinching dedication, Anupama emerged as one of the finest disciples of her Guru. Anupama completed her Masters in music from Indira Kala Sangeet Vishwavidyalaya, India and also received grants in '2000, '2002, 2004′ , and '2008′ , from the Ohio Arts Council (USA). Anupama attributes her astounding success to her Guru. "The nature of Indian music is such, that one has to procure and absorb it over time to evolve as a musician, so that individuality comes out through the music. Only a good Guru can help in achieving this," she says. Gradually, the Sitar virtuoso established herself as a force to reckon with, thanks to a string of performances in prestigious music festivals. Speaking about Anupama, Pt. Bimalendu Mukherjee's son and Padma Awardee Budhaditya Mukherjee said: "My father taught many students. One notable mention would be Shrimati Anupama Bhagwat, who has been performing all over the world".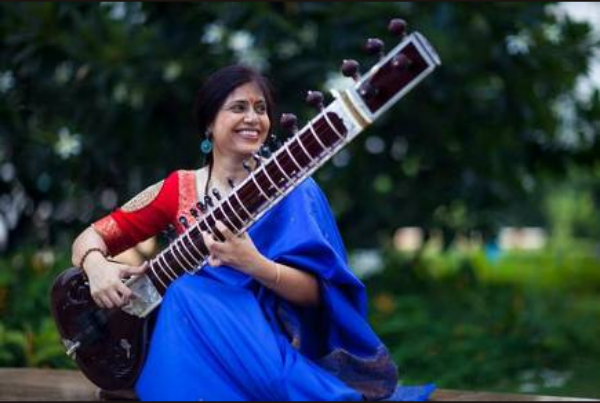 String instruments have predominantly been the preserve of male musicians but artists like Anoushka Shankar, Anupama Bhargav, Mita Nag, have broken this perception and emerged as accomplished Sitar Players. Speaking about fewer women Sitar players, the sitar exponent said earlier people used to associate it with physical strength. Women were told that it required immense physical stamina. But fortunately, there were some open-minded musicians, who did break these norms, and the music world has surely benefited. Anupama plays in Gayaki style and has created several compositions which she also performs on stage. has released various albums such as Confluence, Ether, Epiphany, Colours of Sunset, Sanjh. And many more.Apart from her Guru Pt. Bimalendu Mukherjee, Anupama also draws inspiration from Ustad Vilayat Khan, Pandit Budhaditya Mukherjee, Ustad Bade Ghulam Ali Khan and many more.
The music virtuoso has garnered world-wide acclaim mesmerising audience with her vast repertoire of music across the globe.. She has performed at the Ustad Amir Khan Smriti Samaroh (Indore), Swami Haridas Samaroh, Saptak (Ahmedabad), Sankat Mochan Samaroh (Varanasi), Sangeet Research Academy (Kolkata), Baba HarBallabh Samaroh-Vasant Utsav (Jalandhar) and Uttarpara Festival (Kolkata). Her overseas performances include MIT Fall Concert Series (USA), MIT Fall Concert Series (Boston, USA), U Penn, Berkeley, Ole Miss (USA), Asian Arts Museum (San Francisco), U of Victoria & Calgary, Musée Guimet, Paris, Musée Des Beaux Arts, Angers, France. She has also appeared on All India Radio, Doordarshan National Television (India), WKCR (New York City), WDPR (Dayton Public Radio), WEFT (Champaign, IL), Mood Indigo (California Arts TV). She has collaborated on world music performances such as Lotus World Music Festival (USA), Global Rhythms, Cincinnati Choir and has given and ensemble events with Carnatic and Hindustani artists such as Sikkil Mala Chandrasekhar, Ranjani-Gayatri and SikkilGurucharan. Music critics are in awe of her musical style.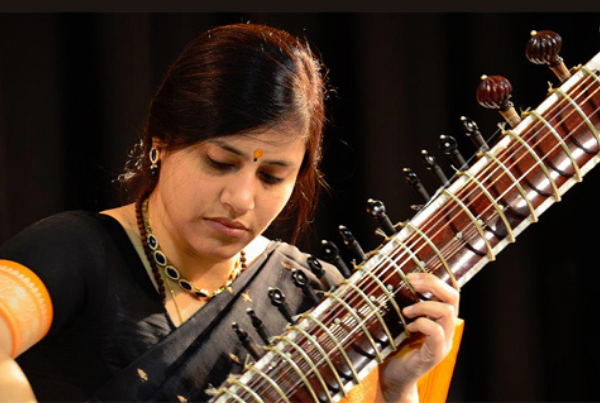 Writing about Anupama's music after her stellar show at Darbar festival 2013 in London, music critic Tim Cumming wrote in The Art Desk," …..She bends and rocks, drops her head close to her instrument as if imparting its secrets, or hearing them, pulling focus with British tabla star Gurdain Rayatt on different dynamics of the raag. It's music that flows through you like a seemingly endless range of peaks – a Himalaya of mind and music that suspends all outside distractions, preoccupations and the conventional flow of time"
As an educator, the Sitarist has conducted several music workshops in a multitude of platforms, universities, and conservatories. A firm believer of hard work and perseverance, Anupama's sensitivity and erudition have won the hearts of many music connoisseurs. For the Sitar virtuoso, recognition has also come in abundance. She won first place in the All India Radio Music Competition in 1994 and also won HRD Scholarship from the Government of India (1993-1996). She was conferred the title Surmani, by Sur Sringar Sansad, Bombay in 1995. An asteroid discovered by Italian astronomer Vincenzo Silvano Casulli in 2006, was named Anupama in recognition of her contribution to Hindustani Classical Music.