Pandita Anuradha Pal is one of India's most accomplished percussionists besides holding the unique distinction of being country's first female professional Tabla player. Born in Mumbai to pharmaceutical doyen, Devinder Pal and painter-writer Ila Pal, she started learning vocal classical music at the age of six. To develop a good foundation of laya and Sur, Anuradha expressed her desire to learn tabla but she was met with refusal. Tabla has long been considered a male preserve as it requires strength and stamina, however, a determined Anuradha convinced her Guru to teach her Tabla and thus started a challenging yet fulfilling journey of a great artist. By the time Anuradha turned 10, she started performing solo & started accompanying top Indian musicians in prestigious festivals, when just 13 years old. Despite being frowned upon for being a female artist, Anuradha beat all odd with equanimity and resolve to improve through introspection and humility. Anuradha took her initial training from Shri Manikrao Popatkar and Pt. Madan Mishra who belonged to the Benaras Gharana. She came in contact with Tabla virtuoso Ustad Alla Rakha and his indomitable son, Ustad Zakir Hussain in 1987. It was under the tutelage of these stalwarts, Anuradha absorbed intricacies and finer elements of playing Tabla. Reminiscing her training days, Anuradha says, she never expected her Gurus to be lenient towards her due to her gender. She used to tell Ustad Allah Rakha to treat her like one of his sons not like a daughter. Anuradha considers herself to be fortunate to have her musical training under guru-shishya parampara. Her intense training under the maestro helped her ace the improvisational medium that relies on the player to bring something of their own to a performance. With her hard work and perseverance,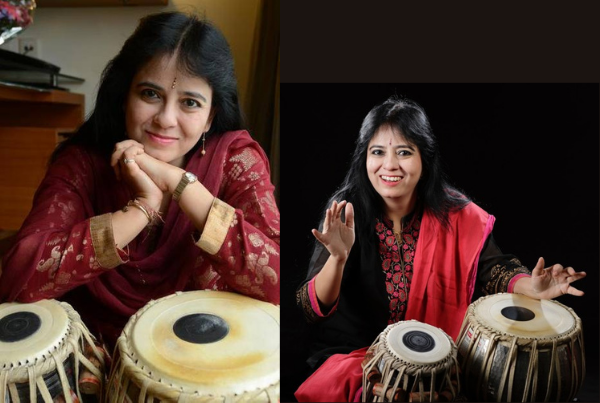 Anuradha emerged as a colossus on the percussion firmament', & was hailed as 'Lady Zakir Hussain' (by Maharashtra Times) when she was only 17. With her 'incredible Tayyari, Layakari and immaculate presentation', she overcame the gender stereotypes and became one of the favourite accompanists of leading artistes. She has accompanied veteran & young Hindustani & Carnatic Instrumentalists, Vocalists and Dancers giving memorable concerts in prestigious festivals in India, U.S.A, U.K, Western & Eastern Europe, Japan, Australia, New Zealand, Brazil, Africa, Hong Kong, Bangkok, Singapore, Mauritius & Reunion islands. The music maestro has performed with who's who of Indian classical music including Pandit Jasraj, Girija Devi, Shivkumar Sharma, Hariprasad Chaurasia, Ustad Amjad Ali Khan, Ustad Shahid Parvez in concerts around the world. Late Vocalist Pandit Jasraj, whom Pal has accompanied on many performances, had described Anuradha as a very accomplished Tabla player. "We don't think of her as a female player. She's as good as the best there is," said the eminent vocalist. Anupama, 44, says the experience of performing alongside great artists has been enriching and a valuable learning experience. The Tabla maestro has also performed for prominent dignitaries & World leaders like Honourable ex-P.M.'s Shri Atal Bihari Vajpayee & Dr. Manmohan Singh, ex-President Dr. APJ Abdul Kalam, Queen Elizabeth II.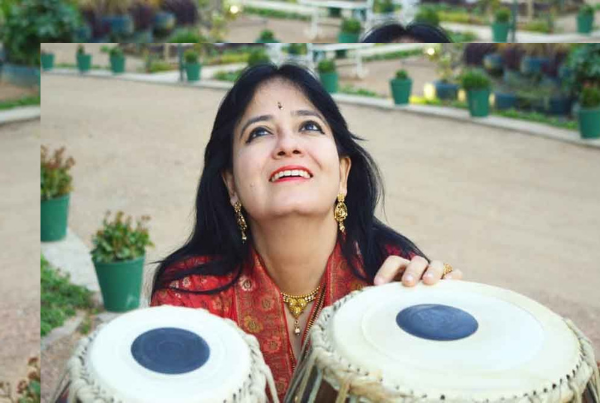 Besides, she has also mesmerised audiences with her innovative solo and collaborative experiments. Her path-breaking collaborations diverse genres including New age, Western Classical, Jazz, Rock, Latin, African, EDM,
Folk, Semi-classical & Film music to painting, poetry, theatre to Kathak & Flamenco Dance has earned plaudits. Having endured gender bias and social prejudices, the ace percussionist created Stree Shakti band in 1996 to provide equal opportunity and representation to the women percussionists, instrumentalists and vocalists from Carnatic and Hindustani Music traditions. Stree Shakti has performed extensively in India and the UK in the WOMAD Festival, Rhythm Sticks Festival, BBC Music Live Festival, Asian Music Festival, amongst others. In 1999, at the WOMAD Festival held in the U.K., singer Sting hailed them as the 'Indian Spice Girls.' She also formed Sufi- Folk band called Su-Fo-Re- in 2008, to create a fusion of Indian Classical, Jazz, Folk and Sufi Music which combines rhythms from Africa, Latin America and India, thus connecting diversities. Her background score for M.F. Hussain's film Gaja Gamini won her rave reviews at the Cannes Film Festival for its innovative approach. The music virtuoso has also composed music for many top-selling Fusion albums like 'EDM High Voltage', 'Recharge Plus', 'Passion', 'Get Recharged', 'Kesaria' & 'Nirvana' & Instructional Videos as part of the 'Learn Tabla Well' DVD series.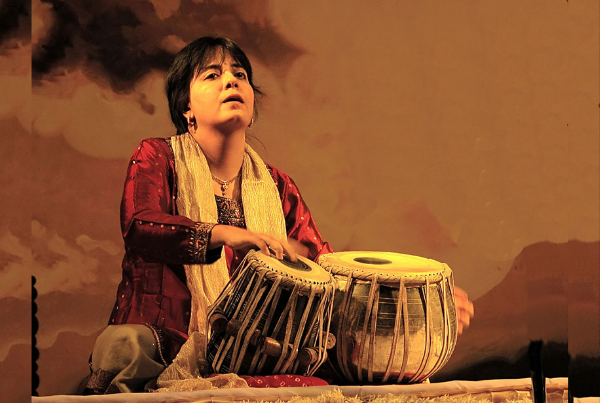 Anuradha has been internationally acclaimed as the world's First professional female, by Encyclopaedia Britannica and the Limca Book of records. Committed and passionate about spreading Indian classical music globally, Anuradha conducts classes & interactive workshops at Anuradha Pal Cultural Academy, Mumbai, and also regularly teaches online students across the globe. Being a Masters (Topper) in Music, the music maestro has given lecture demonstrations at Harvard University, Berkeley School, New England Conservatory, MIT (USA), MIT (USA), Vienna Boys Choir, Palazzo Ducale (Italy), MilapFest (U.K), Monash University (Australia). For her rich contribution in music, Anuradha has been honored with several accolades including Maharashtra Rajya Sanskrutik Puraskar, Dagar Gharana Samman, Femina Women Super Achiever Award, FICCI Woman of Excellence award, etc. The tabla virtuoso is also a Top grade artist at All Indian Radio and an 'Outstanding' artist on the panel of Ministry of Culture and ICCR. She was also honoured with the President award for her relentless efforts towards women empowerment. Currently, her organisation Sur aur Saaz( SAS) is providing platform to young and outstanding senior musicians since 1993. Last year, she also raised funds for the musicians who were affected by the covid-induced lockdown. To support marginalised artists, Anuradha launched a four-day music fundraiser festival called Kala Ke Sang, featuring 27 leading musicians on Aug 1, 2, 9 and 15 last year. As a Brand Ambassador of 'Beti Bachao Beti Padhao', Anuradha Pal performed for over 1 lakh villagers in Jath, Sangli, Maharashtra on 21st June 2017, presenting 'Yoga through Music', sending the message of women empowerment.