Abdul Karim Khan was one of those rare artistes who spearheaded a musical revolution in India. He not only unshackled music from the confines of royal darbar and mehfils but also left behind a rich musical legacy that continues to inspire legions of musicians and connoisseurs. Born on 11 November, 1872 in Kairana in Muzaffarnagar district of Uttar Pradesh, Khan hailed from a family of prolific musicians. His ancestors were originally Hindu musicians who later embraced Islam. Initially, Khan Saheb along with his brothers Abdul Haq and Abdul Majid received his musical training from his father Kale Khan who was an outstanding vocalist. After his father's untimely demise, Khan Saheb took his music lessons from his uncles, Abdulla Khan and also from Haider Khan. Apart from vocals, Khan Saheb also specialised in musical instruments such as Veena, Sitar, Tabla and Sarangi. As the story goes around, Khan Saheb was earlier inclined towards Sarangi but decided to focus on vocal as Sarangi players were not treated at par with vocalists. Khan Saheb was also one of the few top musicians of his era who agreed to record their music for posterity. In the 1930s, the maestro also recorded his Rudra veena performances on 78 rpm discs along with his vocal recitals. Khan Saheb had an expertise in repairing musical instruments, in fact, he used to carry a set of tools for repairs everywhere.
With his name as an accomplished singer reaching far & wide, Khan Saheb started receiving invitations from kings of princely states. During one of his excursions, Khan Saheb along with his brother Abdul Haq performed at the royal court of Baroda. Impressed by their singing prowess, the Maharaja of Baroda appointed them as court musicians. It was during his stay in Baroda, Khan Saheb met Tarabai Mane who was the daughter of a court chieftain Sardar Maruti Rao Mane and niece of the Queen. They fell for each other and decided to get married. The couple eloped and went to Bombay to escape the wrath of Baroda royals. They became proud parents of Champakali, came to be known as Hirabai Barodekar and Abdul Rahman also known as Sureshbabu Mane who were prolific musicians in their own rights.
Khan Saheb has been credited with bringing out the classical music from the confines of the royal courts and mehfil's of wealthy patrons and introducing it to the common man. In fact, he was the first gharanedar who organised and performed in a ticketed concerts in public in the early years of the last century. He also did away with the practise of observing secrecy in matters of arts and publicly announced the name of the ragas he was about to sing. Unlike other musicians of his era, Khan Saheb allowed his daughter Chammpakali ( Hirabai Barodkar) to give public performances. Khan Saheb was inclined towards spirituality and had met the Sai Baba of Shirdi.
In 1889, when Khan Saheb was on his way to Bangalore for a concert, his health suddenly deteriorated forcing him to deboard the train in Miraj, a town at Maharashtra-Karnataka border. There, he met a fakir who asked him to pray at the shrine of Khwaja Samsuddin Mira Saheb of Kasgar and seek a cure. As the story goes around, an ailing Khan Saheb arrived at the Dargah in the early hours, sat under a tamarind tree and sang a prayer. Khan Saheb's disease was miraculously cured. To express his devotion towards Khwaja Saheb, the music maestro regularly performed at the Sufi Shrine during Urs festivities, until he breathed his last in October 1937. He even turned down the invitations of the King of Kashmir and even Emir of Afghanistan to offer his musical service at the shrine.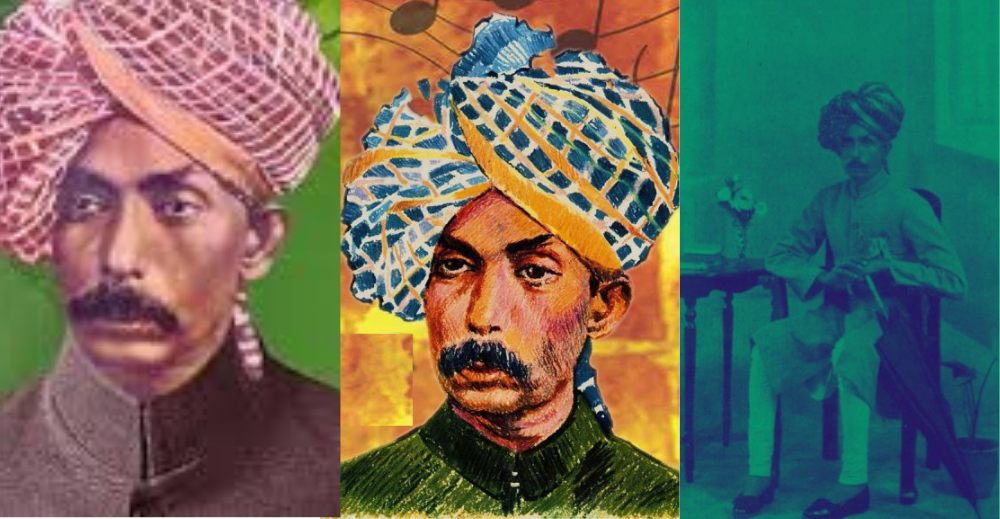 Khan Saheb's singing style was characterised by the importance he accorded to the emotions. Being a sarangi player himself, he incorporated the meend-influenced elements in his singing. He placed emphasis on the gradual step-by-step elaboration and development of raga. Among the well-known musicians of his time, he was the first who studied the complex problems of shruti. The music maestro could reproduce all the 22 shrutis of the chromatic scale (Swara Prakara). During his stint at Mysore court, Khan Saheb was introduced to the Carnatic style of music. He was deeply influenced by the imaginative experimentation with "sargam" in Southern Music. He enthusiastically incorporated this element in his own singing. He blended some features of Carnatic music with Hindustani style evolving a new system of musical notation. He also held deep musical discussions with the stalwarts of Carnatic music at Mysore. Notable among them was the famous composer-musician Mysore Vasudevacharya. One can find the touch of Carnatic style in Khan Saheb's aalaap, khatka or murki etc. He borrowed many Carnatic ragas such as Kharahapriya, Abhogi, Devgandhari and Saveri and popularised them in North India. Thanks to his musical genius, the King of Mysore conferred upon him the title of Sangeet Ratna.
Khan Saheb along with his cousin Abdul Wahid Khan laid the foundations of the Kirana Gharana in the early 1870s. Khan Saheb was not only an extra-ordinary musician but also an exceptional Guru. In our tradition, Guru's achievement can be assessed by the success of his disciple. Now, you can easily imagine the stature of Khan Saheb who groomed stalwarts such as Sawai Gandharva, Sureshbabu Mane, Roshanara Begum and Hirabai Barodekar, Balkrishnabuwa Kapileshwari among others. The next generation of gharana torchbearers included Bharat Ratna Shree Bhimsen Joshi, Gangubai Hangal, Manik Verma and Prabha Atre, just to name a few. On October 27, 1937 while travelling to Pondicherry, Khan Saheb experienced acute chest pain at Chingalpeth (Tamil Nadu). He left for heavenly abode at Singapuram Koilam railway station, reciting the holy Kalma in Raga Darbari.