In 1955, a 17-year-old artist was invited to play Santoor at the prestigious Haridass Sangeet Sammelan in Mumbai. But shortly before the event, he put forth a unique condition before the organisers. The artist said he would start his performance with Tabla and then he would play Santoor. And the person who placed such a condition was non-other than Sitar virtuoso Pandit Shivkumar Sharma. Organisers were in a fix because the most coveted Tabla players of the country were invited to perform at the music event.
Ustad Allarkha Khan Sahab, Anokhe Lalji, Samata Prasad Ji, Pandit Kishan Maharaj, Habibullah Khan Sahab and Ahmed Jan Thirkwa were already in the fray to play music. Not only them, the list of attendees also included the likes of Ustad Bade Ghulam Ali Khan Sahab, Ustad Amir Khan Sahab, Ustad Mushtaq Hussain Khan, Rasulan Bai Ji, Kesarbai Ji, Pandit Omkar Nath Thakur, Pandit Narayan Rao Vyas, Pandit Vinayak Rao Patwardhan, Siddeshwari Devi Ji and Mogubai Kurdekar among others.
Organisers finally gave in and asked him to play both the instruments in 30 minutes. However, when Panditjee took the stage, he played Tabla for first 30 minutes and then picked up Santoor which he played for another 60 minutes leaving the audience stunned. He received a standing ovation amid chants of 'once more'. Finally, Brijnarayanjee, one of the organisers, had to come on stage and requested the audience to allow him to leave. Reminiscing the day, Pandit Sharma says, "Today when I remember that event, I laugh. That was immature on my part".
Born on 13 January 1938 in Jammu, Shivkumar Sharma started learning tabla and vocals from his father Pandit Uma Dutt Sharma when he was only 5. Though he started with vocals, gradually he was drawn towards Tabla. When Shivkumar Sharma was around 7-8 years old, he played tabla in a children's program on local radio broadcasts in Jammu. When he turned 12, Shivkumar Sharma's father told him that he should learn santoor.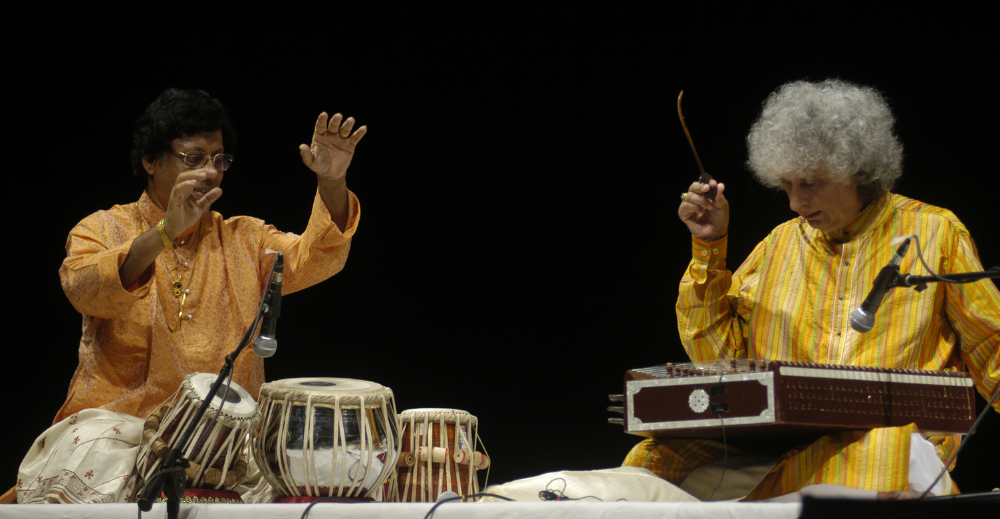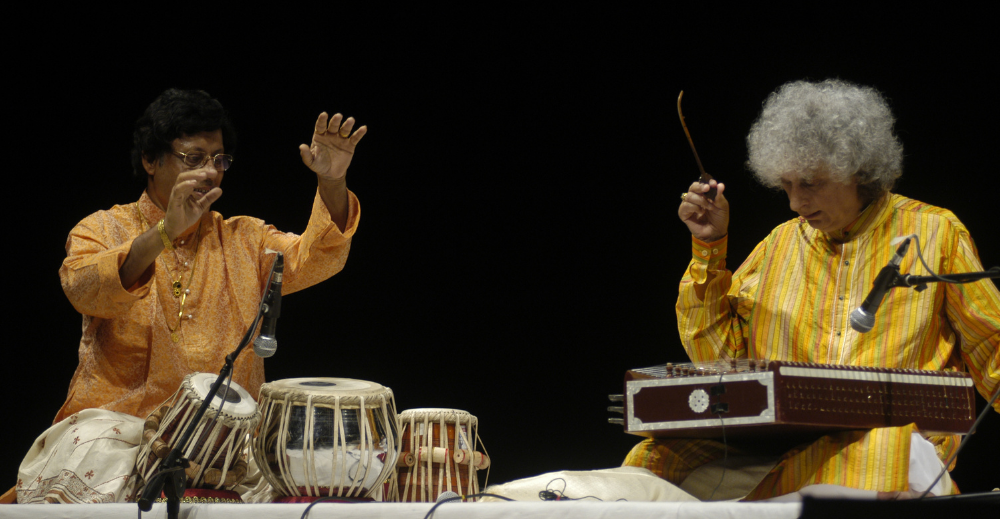 Notably, Pandit Uma Dutt Sharma has a key role in reinventing Santoor, which was predominantly used for Sufiana music in Jammu and Kashmir. He came up with the idea to bring Santoor into classical music. Apart from being an instrumentalist extraordinaire, Shivkumar Sharma is also a well-known film music composer. He along with master flautist Hari Prasad Chaurasia, came to be known as Shiv-Hari. The music composer duo created memorable tracks for popular Yash Chopra films including Silsila, Chandni, Lamhe and Darr among others.
Pandit Sharma's foray into film music started with the program we mentioned in the beginning. Madhura Jasraj, daughter of legendary filmmaker V Shantaram, was also among the audience during the event. She was particularly impressed with Pandit Sharma's Santoor skills. She called her father and told him that Santoor is a unique instrument and he could use it for his films. Shantaram offered him work for his upcoming film Jhanak Jhanak Payal Baje but Pandit Sharma refused it citing his exams. Now, Panditjee considers it another immature move. But as luck would have it after the completion of his exams, he received a telegram from Rajkamal Studio with a message "Come To Bombay". Till then, Santoor was relatively a lesser-known instrument. Pandit Shivkumar Sharma is credited with lending the sound of Santoor to Hindi cinema. Noted Kathak dancer Gopikrishna was playing the lead role in this film. Pandit Shivkumar Sharma was part of a great music ensemble.
Noted percussionist Pt. Samta Prasad played Tabla for its songs and Ustad Amir Khan lent his vocals to the title track of the film. Jhanak Jhanak Payal Baje became a massive hit upon release and bagged all popular awards including the prestigious national film awards. The music virtuoso is credited with popularising Santoor giving joy to millions of music lovers across the world. In recognition of his contribution to Indian classical music, Pandit Sharma was awarded country's second-highest civilian honour, Padma Vibhushan in 2001. We wish the maestro a long life and expect his musical journey to continue unabated.