Ustad Ali Akbar Khan was the son of Baba Alauddin Khan, one of the greatest exponents of Indian classical music. There is an interesting anecdote about Ali Akbar Khan's childhood. When Ali Akbar Khan was around 6-7 years old, his father called him. He first fed him sweets, blessed him and then gave a Sarod in his hands. After handing over Sarod, Baba said, you will no longer play any other instrument from today. Ustad Ali Akbar Khan was born on 14 April 1922 at Shivpur village in East Bengal (now Bangladesh). Akbar's family shifted to Maihar when he was six-month-old. Baba Alauddin Khan was a strict disciplinarian. Before giving him Sarod, Baba asked Ali Akbar Khan to try out different instruments for two weeks. A young Akbar tried his hands at instruments like Sitar and Violin but on his father's direction, he finally settled with Sarod. It is said that the Sarod, which Ali Akbar Khan used for his Riyaaz, was made by Baba Alauddin Khan himself. As surprising as it may appear to us today, Baba Allaudin Khan could play around 200 types of instruments, most of which were made from the woods of a 200-year-old tree.
Ali Akbar Khan's life took a different turn after he started learning Sarod. During his early years, there were notable restrictions in his life. His father had instructed him that he should only learn and practise what is being taught to him. He was even barred from listening to other forms of music. Baba Allaudin told him to focus on learning Sarod and assured him that when the right time comes, he will tell him about the kind of music he should listen to. It was also instructed that he would go straight to school and avoid unnecessary conversation with students. Playing with friends or watching films was not an option for the young Ali Akbar. Baba Alauddin Khan told his son that he was only born to learn music.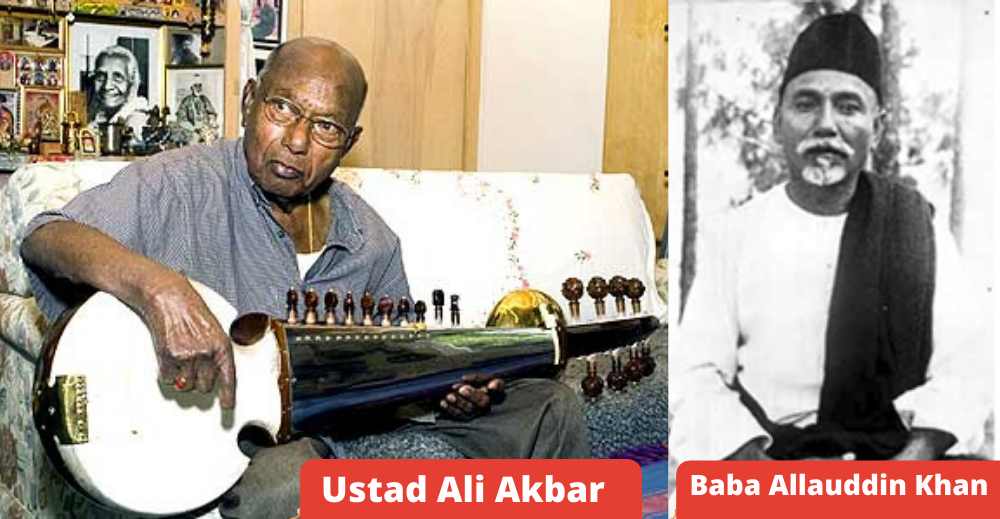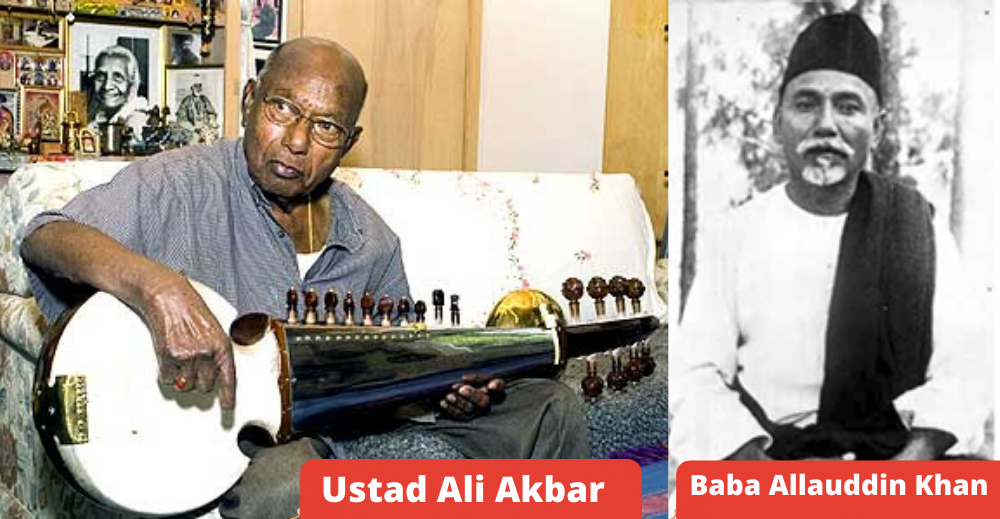 Khan's Riyaaz session gradually increased to 18 hours, Baba Alauddin Khan asked him to be prepared with at least 500 compositions of each raga. The music virtuoso was very particular about the time of singing Ragas during Riyaaz. He would quickly correct his son even if a single note went astray. There were only a few occasions when Ali Akbar Khan practised along with his sister Annapurna Devi. He mostly practised with his father only. After Maihar, Ali Akbar Khan reached Lucknow where he joined All India Radio. At AIR, he started listening to other musicians and even composed music for plays. In the meantime, the king of Jodhpur, Maharaja Ummed Singh invited Baba Alauddin Khan to his court but the music virtuoso refused the invite, saying he would not leave Maihar at any cost. He, however, added that if the king wishes, he may call his son Ali Akbar Khan to Jodhpur. So, the King agreed and Ali Akbar Khan left for Jodhpur.
Ustad Ali Akbar Khan often recounted an episode that happened during a programme in Jodhpur, where veteran vocalist Ustad Faiyaz Khan was performing. After his performance, the Maharaja of Jodhpur requested Ustad Ali Akbar Khan to play Sarod. Ustad Ali Akbar Khan said, since Ustad Faiyaz Khan is a very senior artist, it would not be appropriate for him to play Sarod after his performance. However, Faiyaz Khan himself invited Ustad Ali Akbar Khan on stage and asked him for a Jugalbandi. Notably, Khan Saheb's Jugalbandis with Tabla maestro Ustad Allah Rakha Khan and Sitar virtuoso Pandit Ravi Shankar were also famous. The love and respect that Ustad Ali Akbar Khan garnered worldwide was the result of the hard work he put into riyaaz during his childhood. Khan Saheb also composed music for Chetan Anand's film Aadhiyaan and Satyajit Ray's film Devi.
In 1956, he founded the first Ali Akbar College of Music in Kolkata. This college, however, did not do well. Later, he moved to California, USA where he again started a music institute for Sarod enthusiasts. Ustad Ali Akbar Khan remained active till his last years. In 1989, the Government of India honoured him with the Padma Vibhushan award, the second-highest civilian honour in the country. He breathed his last on June 18, 2009 in California.