Indian violinist, composer and recording artist Sharat Chandra Srivastava ( Ex Parikrama ) currently with Mrigya teamed up with American jazz musician, composer and producer Dennis Dreith to create a unique blend of jazz and World Music in an East Meets West tour de force featuring an International cast of stellar musicians.
"This is a very special song which speaks to a world without borders. We are all living on this beautiful planet as one family and look forward to a time when we are we all be free to explore, meet new people, understand their cultures, habits, food and share the love. For us as musicians we have only one language which is music and music is love. This song has so many musicians from India, America and Europe – all from different walks of life, who come together merging into this song to become one.
This song is about freedom, care, compassion, love for each one of us living on this beautiful planet. In today's times we see so many unpleasant things going around everywhere, so this song is a message, a plea, a prayer to the world to open all the borders to spread love. " -Sharat Chandra Srivastava.
"Music is my greatest joy. I sing what I think and feel. This way I can use the power of songs and share energy, love." – Katja Koren "It seems to be the job of politicians to draw borders on the map of the world. But, as Artists it is our sacred duty to erase all those lines to unify the planet as one people and one race – the Human Race. We recorded keyboards in my studio in Los Angeles, tabla and violin in New Delhi to record, then back to LA to record Vinnie Colaiuta on drums, then sent the track to Scotland record percussion in Glasgow, then back to LA to record a Slovenian pianist and a Slovenian vocalist. If this does not qualify as World Music, I don't know what will." – Dennis Dreith
No Passport Control is a collaboration of some of the finest musicians from across the globe featuring:
Sharat Chandra Srivastava, Violin, Katja Koren, vocals, Composed by Dennis Dreith, Sharat Chandra Srivastava, Katja Koren, Arranged and Produced by Dennis Dreith, Drums- Vinnie Colaiuta, Percussion SFX – Steve Forman, Piano – Marko Churnchetz, Synthesizer – Dennis Dreith, Tabla – Gyan Singh and Heiko Dijker, Guitar – Igor Bezget, Bass – Tadej Kampl, Mixed by – Brenden Dekora, Mastering by – Pete Doell, Recorded at – East West Studios Los Angeles , Colaiuta, Studios Van Nuys , Sid,s Studio Madh Island , PerfTec Studios Gurgaon , Glasgow Percussion Collective Glasgow.
Perseverance Records specializes in film scores from the fantastic genre, but has also released the occasional action movie or drama soundtrack. As of late Perseverance has been involved in acquisition and distribution of jazz albums, and eclectic recordings.
About Sharat Chandra Srivastava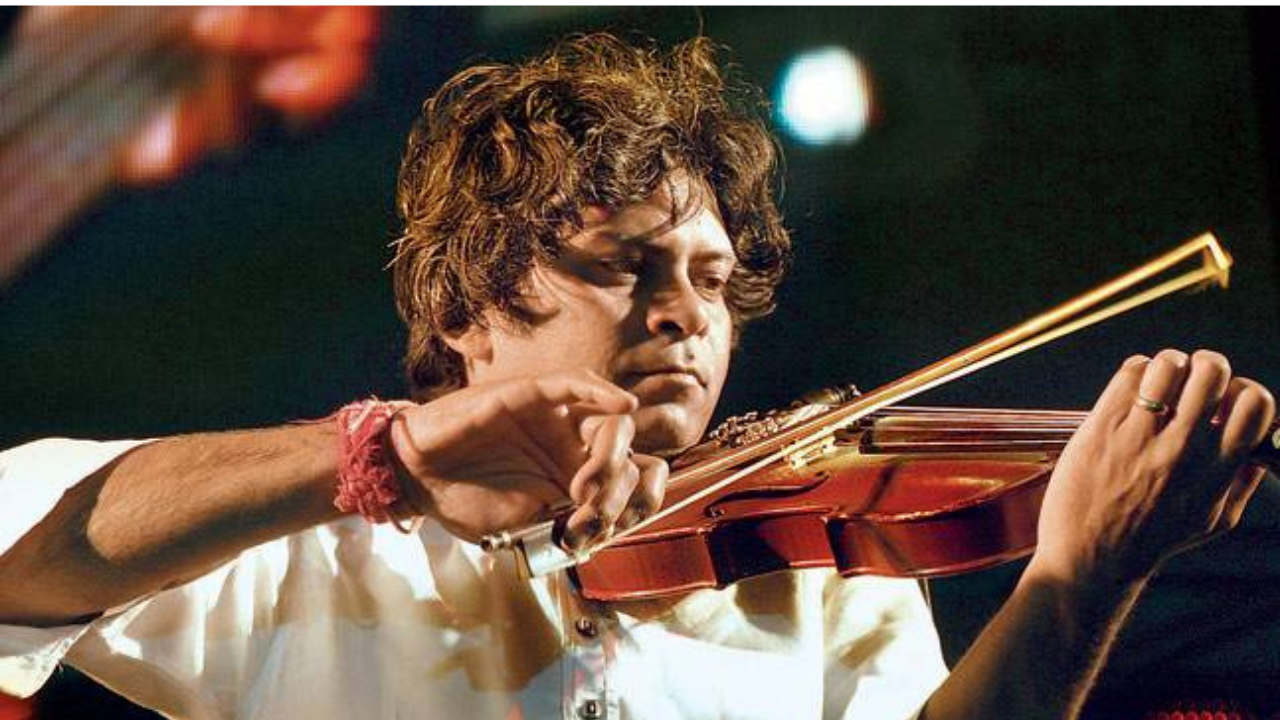 Owing allegiance to the "Senia Gharana", Sharat has been active on the performing circuit for over 35 years. His distinct experimental approach led him to dabble with various genres of music. To this end, he has been a noted member of India's premier Rock 'n Roll band Parikrama from 1992 until 2003. They have performed extensively throughout the country, weaving their own expressive interpretation of Trans-atlantic rock and Hindustani Classical Music.
His nascent talent, nurtured since age 7 by renowned violinist Shri Joi Srivastava, his Grandfather/Guru, has lent him rare understanding of the "Dhrupad-Ang", a style unique to this Gharana under Guru Shishya Parampara.. This, and such grooming has put him on stage with the likes of Ustad Amjad Ali Khan, Pt. Hari Prasad Chaurasia, Pt. Birju Maharaj, and as an acclaimed soloist he was selected for Sahitya Kala Parishad's coveted Yuva Mahotsava.
He is a recipient of the national scholarship from the Ministry of Human Resources and Development, Government of India. In year 1998, he got the opportunity to play with Sting at the Channel V awards New Delhi.
Sharat has performed across the globe in some prestigious Music festivals like New Zealand Arts Festival in 2004, The great Arc Festival and the Little Chilli Festival (London), Singapore Arts Festival, Druga Godba Festival (Slovenia), Canada National Day (Toronto), Edinburgh Fringe Festival, Dubai Jazz Festival,Khajuraho Millennium Festival (India) etc. In the year 2005 he collaborated with the finest jazz musicians from Slovenia to form a world Music Band called "Sagar" . Among his International projects the latest is a band called India Alba with two very fine Scottish musicians. This is a combination of India Ragas with Scottish Melodies. India Alba has has been very active lately and has played in some big Festivals in Scotland and India including the most popular "The Piping Festival' and "The Celtic Conncetions" in Scotland.
Currently, he is working on a World Music project "Mrigya" which he started in 1999, giving the audiences in India and the West a blend of Indian Classical Ragas with blues, jazz and other forms of music. Mrigya was given the 5 star rating at the prestigious Edinburgh Fringe Festival in the year 2001. Following year the band got the Herald Angel Award for the best musical act from India. Apart from performing and doing studio work Sharat has conducted masterclasses in the University of Edinburgh and Glasgow, Scotland, where he teaches Indian Violin to mainly string players. In year 2002, he was conducting workshops in Winterthur University, Switzerland. He was teaching the Violin in Gandharva Mahavidyalaya, New Delhi for 9 years.
During the pandemic Sharat was constantly working on his new album and music videos which he released in June 2021. The album is called No Passport Control released with with Perseverance Records Los Angeles. In this album he has collaborated with some of the top musicians from India , USA, Holland, Slovenia, Scotland , Brazil and Namibia.