From doing Riyaaz in graveyard to teaching music to Bollywood singers, tracing the extraordinary journey of Ustad Ghulam Mustafa Khan
Ustad Ghulam Mustafa Khan has been a towering figure in the world of Hindustani Classical music. One can easily guess the kind of respect Khan commands by just looking at his disciples. His disciple list boasts of some of the most venerated names of the Hindi film industry including Asha Bhonsle, A R Rehman, HariHaran, Sonu Nigam and many more. Born on March 3, 1931 in Badaun in Uttar Pradesh, Khan belongs to the illustrious lineage of musicians from his paternal as well as the maternal side. Khan Saheb's mother Sabri Begum was the daughter of the great Ustad Inayat Khan, who was the founder of the Rampur-Sahaswan gharana while his father Ustad Waris Hussain Khan as well as grandfather Ustad Murred Baksh, were also eminent musicians. His family traces their Senia traditions to the father of Indian classical music, Mia Tansen.
The story goes around Khan started singing before uttering his first word. Khan says he spoke his first word quite late. His parents were worried as they tried out various methods to make him speak. Khan says his father used to make me lie on his chest, face downwards, and sang to him. Khan started singing back to him, although he would still not speak words. His father continued with the practise as he believed it would strengthen his vocal cords and help him speak. The idea worked and soon Khan started speaking like other children of his age. Khan took his early lessons in music from his father and later learnt under the tutelage of his cousin, Ustad Nissar Hussain Khan, the torchbearer of Sahaswan gharana. Speaking with a national daily, the music virtuoso shared an interesting anecdote about his learning days. While singing Ragas Khan used to distort his face or strain his eyes. To this, his Guru Nissar Hussain saheb warned him against making faces and put a mirror in front of him so that he could check himself. Khan gave his first performance at a Janmashtmi function in Badayun's Victoria Garden (now Gandhi Maidan) in 1939. Such was his dedication towards music that the maestro did his riyaz at a graveyard to avoid any kind of distraction. Then he was only 12. Speaking with a news agency, he said, "The graveyard was desolate and a perfect place for me to do my riyaz. I did not have to worry about anybody and sing my heart out."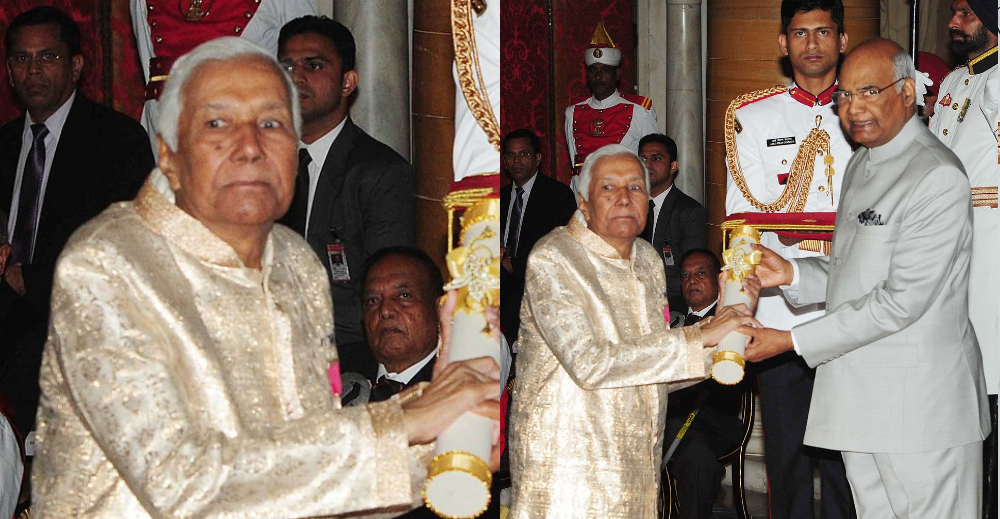 Khan was 14 years old when he left home to stay at the house of my grandfather's disciple in Sitapur where he entirely focussed on his music. His rigorous riyaaz session enabled him to traverse from the lower octave to the highest reaches of ati taar saptak with relative ease. It did not take long for his talent to get recognition; he started giving classical recitals at All India Radio from a young age.
Despite being the leading light of classical music of Rampur-Sahaswan Gharana, Khan has not restricted his musical genius to one genre. Apart from Dhrupad and Khayal gayaki, Khan can easily dabble into light and semi-classical forms such as thumri, dadra, kajri, the poetic forms of the geet and the ghazal and spiritual forms including bhajans. Just listen to his soulful 'Bahut bechain hai dil'(Ghazal) or ' Chain na paiyo hamein tarpa ke' (Thumri) to understand his versatility. According to Khan, it was on the advice of his Guru Nissar Hussain Saheb, he took interest in other genres as well. He believes if the base is strong, one can do any kind of singing for any medium.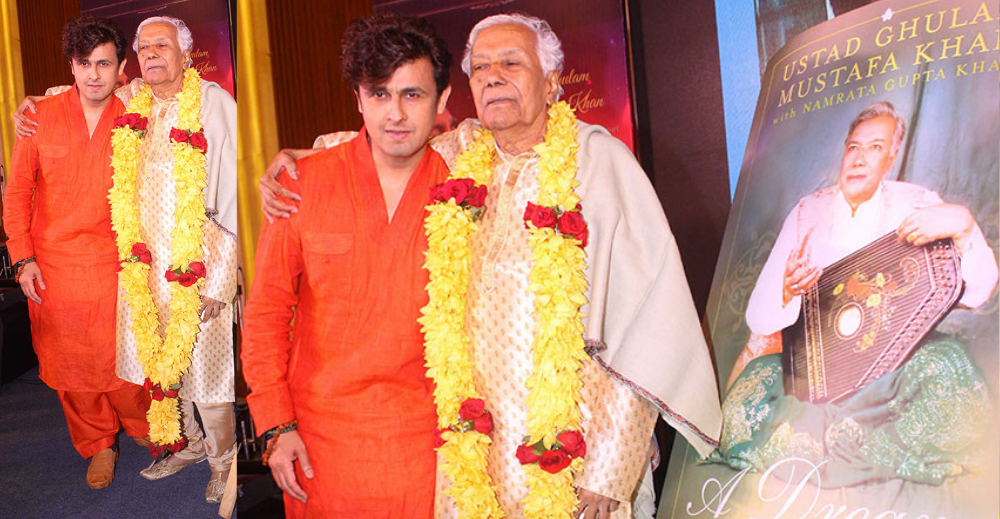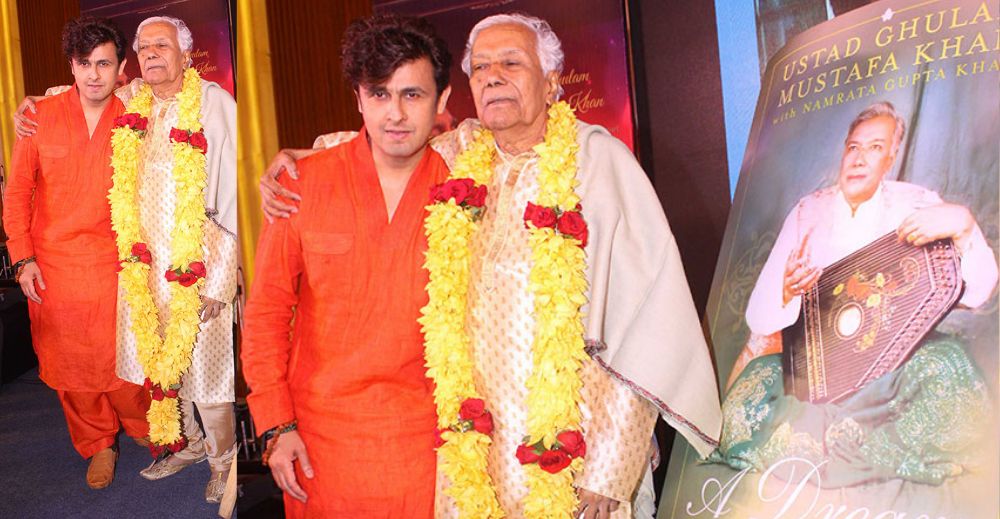 Unlike most of the Gharanas, Sahaswan music style also emphasises the literary content of the composition. So it was easier for Ustad Ghulam Mustafa Khan to adapt to film music as well. Khan started singing for Marathi and Gujarati films in the late fifties. He got his first break in Hindi film music in 1969 in Mrinal Sen's Bhuvan Some. He also received acclaim for the famed "Sajna Kahe Nahin Aaye" from Badnaam Basti. However, Khan saheb is best remembered for his songs in Muzaffar Ali's celebrated epic Umrao Jaan. He created a splash with "Jhoola kin, dara ri amraiyan…" and the melodious Raag Maala "Pratham Dhar Dhyan Dinesh". The song is an amalgamation of seven ragas- Bhairav (Pratham dhar dyan), Gujari Todi (Ab mori naiya paar karo tum), Shuddh Sarang (Sujan Vichar AAyo Man ma), Kafi (Biraj Me Dhum), Yaman (Darshan do Shankar), Malkauns (Pakdat Baiyan Mori) and Bhairavi (Bansuri Banj Rahi)- where one sees Rekha growing up from an adolescent to a beautiful young woman. Interestingly, Khan saheb has also worn an actor's hat for a documentary film. He essayed the role of Baiju Bawra in a German documentary film shot in Jaipur, where he also sang for himself. Besides, he has lent his voice to other films and documentaries which went on to win prestigious national awards. Khan's last notable outing was in 2013 with his student and composer A R Rehman during Coke Studio season 3 where he presented raag Yaman along with his sons, Murtuza Mustafa, Qadir Mustafa, Rabbani Mustafa, Hasan Mustafa, and grandson, Faiz Mustafa. In 2016, Khan also released his version of the national anthem.
The music maestro has been a recipient of several national and international honours. Recognising his contribution to Hindustani classical music , the government of India honoured him with Padma Shri Award in 1991, Padma Bhushan award in 2006 and Padma Vibhushan award, the second highest civilian honour in 2018. Besides, he has also been conferred with the Sangeet Natak Academy Award (2003), National Tansen Samman (2008) and Pandit Dinanath Mangeshkar Award (2011) among others. Khan Saheb's beautiful journey has been chronicled in his autobiography 'A Dream I Lived Alone', a book co-authored by his daughter-in-law Namrata Gupta.