Jayanthi Kumaresh is one of the leading exponents of Saraswati Veena, India's national instrument. Hailing from an illustrious lineage of Carnatic musicians, Jayanthi was introduced to Veena at the age of 3. In fact, it was her mother violinist Smt. Lalgudi Rajalakshmi who initiated her into music. Her maternal aunt and Veena maestro Padmavathy Ananthagopalan was her second Guru. Jayanthi invested around 20 to 22 years learning Veena from Ananthagopalan under the traditional Gurukul system. Under her tutelage, she was able to absorb grammar, expression and subtle nuances of Veena. By the time she turned 16, Jayanthi became a full-fledged solo performer presenting 20-25 concerts a month, in addition to academics. Notably, she is the niece of the violin legend Lalgudi Jayaraman. Despite being from the family of violin players, Jayanthi chose Veena. She says choosing Veena was not a conscious decision rather it was the instrument which chose her. She was awestruck by Ananthagopalan's musical style. Later, she also learnt music from another Veena maestro S Balachander. Since Jayanthi also gave a vocal performance in her first concert, Dr. Balachander told her there are several people learning to sing. He asked Jayanthi to make him a promise that she will only play the Veena; a promise she has kept. She is also one of the youngest Veena players to receive 'A Top' grading from the All India Radio. Balachander has left an indelible mark on Jayanthi's music. Her performances are resonant with Balachander's style and stamped with remarkable intellectual depth.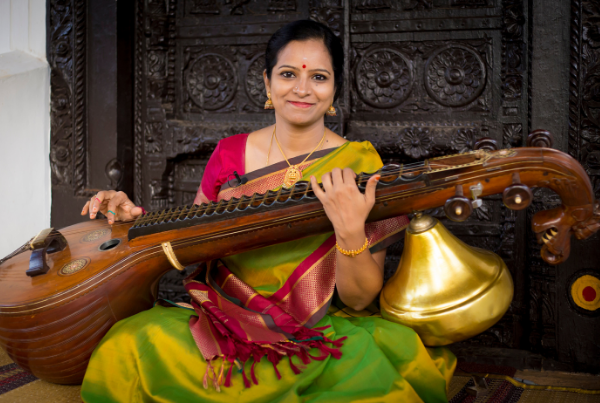 Jayanthi earned her doctorate in music from Mysore University in 2006, researching on the instrument she revers. She wrote a thesis on ' Analytical study of the different banis and techniques of playing the Saraswathi Veena'. As part of her research, she traversed through Tamil Nadu, Kerala, Karnataka and Andhra Pradesh and found that the Veenas made in the four states are different from one another and each state has distinctly different styles of playing the same instrument. She is married to Kumaresh Rajagopalan, the younger of the famous Ganesh-Kumaresh violin duo. In a career spanning three and half decades, she has not emerged as a phenomenal Veena player but also a collaborator, composer, researcher, creator, pioneer, and educator. She has collaborated with legends such as Tabla Maestro Ustad Zakir Hussain, Hindustani Flautist Ronu Majumdar, Hindustani Violinist Kala Ramnath and Carnatic musicians such as Aruna Sairam , Bombay Jayashree, Sudha Ragunathan among others. Jayanthi and Kumaresh have also come together for violin and Veena tête-à-têtes — 'Strings Attached'. "Strings Attached-an experiment which happened after a western musician urged the couple to play together. Besides, Jayanithi has also presented duets and north-south jugalbandhis with several other maestros. She also created a sort of record by playing 45 Ragas, non-stop for 124 minutes, extempore, and live in front of an audience in an unparalleled manner.
She is also the founder of Indian National Orchestra, an initiative to bring together musicians from Carnatic and Hindustani genres under one banner and showcase the best of the Indian classical music at national and international level. Jayanithi has been a regular at several music festivals in India and abroad. She has performed at Sawai Gandharv Mahotsav, Gana Saraswati Samaroh, Gwalior Music Festival, Margazhi Chennai session among others. She has also performed in San Francisco Jazz Festival, Darbar festival, Queensland Music Festival, Celtic Connections in Scotland, Darwin Music Festival, and Adelaide Music Festival. For the music virtuoso, playing Veena is a mode of self-expression. She truly brings out the voice of the Veena, in terms of originality in content and technique. She expresses her music with sophistication in expression and melodic subtlety, transcending the realms of language and region. She also connects with her admirers through facebook, talking about music and sharing valuable tips.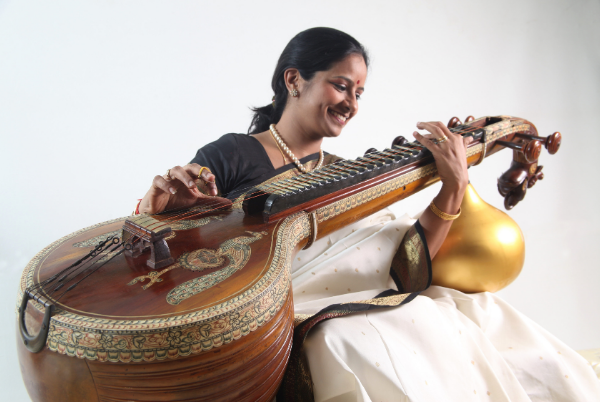 In 2010, the music maestro composed and released Mysterious Duality, a music album comprising seven Veena tracks. It was a unique experiment which helped Jayanthi explore the musical range of the Veena with her exceptional mastery over the instrument. In a bid to spread the light of classical music, Jayanthi launched the web series 'Season of Carnatic' on YouTube and Facebook. This series was a month-long attempt with an episode daily to educate people on the artists and their work. She has also composed music for productions like Jagadguru Adi Shankaracharya, Abbakarani, Rithu Soundaryam to name a few. Apart from this, she has created individual pieces such as Thillanas, Varnams and Raga based melodies that have been featured in many of her albums.
Jayanthi spends a good amount of time imparting precious music lessons with students at home and abroad, one on one and through her Master classes, workshops and lecture demonstrations. She, however, believes, one should not be in a hurry to perform. She says," Just like to become a doctor you spend 12 years in school, 5 years in medical school, 2 years training as an MD, to train to be a musician you need that many years. A lot of internalizing is required".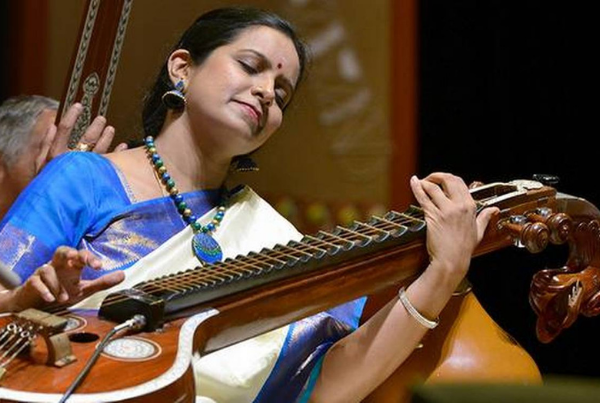 Her musical prowess has been recognised by many institutions across the globe. She is a recipient of several accolades including the "Sangeetha Choodamani", "Kalaimamani", "Vishwa Kala Ratna from Milapfest, London, "Veena Naada Mani", Kala Ratna from Kala Sangam, Mumbai, Hamsadhwani Award, Sathyashree, and "Gaana Varidhi". In 2019, she was awarded Bhavan's Sangeet Shikhar Samman; joining an exclusive club of only 11 other artists including late Vidwan Balamurali Krishna, and Vidwan T V Sankaranarayan.
The Veena player also envisions establishing a world class research Centre for the National Instrument of India with an extensive audio-video library with state of the art facilities for recording and practice. This will also showcase the craftsmanship of the great Veena makers of the past.